See Your HMI. Experience the Difference.
The SHADE AIDE® HMI Sun Protector comes completely assembled and easily installs so that you can start seeing your HMI no matter how sunny of a day. The SHADE AIDE® collapses when not in use and is fully lockable. It also protects your display from the harmful effects of constant UV ray exposure, saving your maintenance budget from replacement HMI costs due to excessive sun exposure. Start viewing your display today – no matter how bright the sun!
Customize Your SHADE AIDE®
Put your logo and company color front and center on every SHADE AIDE® you buy. Every aluminum control panel will have your logo etched in the center of the SHADE AIDE® cover and the SST version etches you logo into the stainless steel allowing you to market your brand uniquely.
Compatible with Many HMI Screens
The SHADE AIDE® HMI Protector is compatible and customizable to fit every HMI screen sold today. If you don't see the size you need, just ask for a custom SHADE AIDE®. We'll quickly send  you a quote and design to fit your unique HMI. No need to be limited to standard, one-size-fits-all options.
Easy Installation
To install the industry's best HMI Sun Shield, simply match drill on the front of the control panel, and install the gas tight sealing washers and sealing gasket when you install the screws and nuts. 
Fully Lockable
The SHADE AIDE® is fully lockable with a simple padlock which prevents unauthorized use of your HMI screen.
Many Sizes & Colors
Why buy a one-size-fits-all HMI Protector?  The SHADE AIDE® HMI Protector comes in many different sizes and colors, sure to fit your HMI and your style. If you can imagine a color, we can make it. If you can imagine a new size, we can build it. Just let us know what you want.
Prevents Expensive HMI sun Damage
Replacing HMI's due to sun damage is expensive. It can quickly eat into your operating or maintenance budget. By installing the SHADE AIDE® your HMI's will last longer.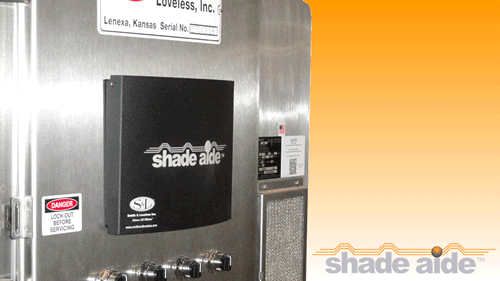 SHADE AIDE® is Compatible with these HMI Manufacturers
Generating New Ideas.
Solving Sunny Problems.
As HMI's grow in size, so does SHADE AIDE®.
The newest size is the Modified Mini SHADE AIDE® H87A570A.
Percent Sunlight Reflected